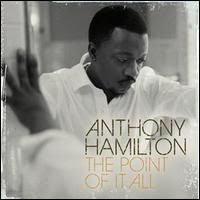 Il est possible depuis ce matin de se procurer les nouvelles chansons de la voix du Sud réunies afin de nous concocter l'un des plus cadeaux de fin d'année. "The Point of it All", le nouveau disque d'Anthony Hamilton a été anticipé par le single "Cool" en collaboration avec le rappeur du Mississipi David Banner.
Ce successeur du chaleureux "Southern Comfort", reste aux premières notes dans la lignée de ces prédécesseurs So Soul. Parmi les producers ont a affaire au légendaire Salaam Remi (Fugees, Nas, Amy Winehouse...) , l'incortounable duo Dre & vidal, Mark Batson ou Kevin Wooten.
Pour vous faire une meilleure idée voici la trackliste:
1. "The News"
2. "Cool" (featuring
David Banner
)
3. "The Day We Met"
4. "Diamond In The Rough"
5. "I Did It for Sho"
6. "Hard to Breathe"
7. "Soul's on Fire"
8. "Please Stay"
9. "The Point of It All"
10. "Fallin' in Love"
11. "Prayin' For You/Superman"
12. "Her Heart"
13. "Fine Again"
14. "She's Gone (Bonus Track)"
Pour ma part, je reste fidèle à l'artiste. Il fait partie de ces fournisseurs dont on ne teste pas la came. On l'achete d'abord car elle est forcement de bonne qualité mais le temps nous dira juste à quel degré.
Pour le plaisir des oreilles on ne compte pas....
TSD