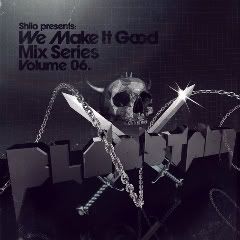 Un Mix bien croustillant à se mettre sous l'oreille en cet période de fêtes. Il le dit lui même haut et fort:
"
We make it good… Blaqstarr style! yeaaahhhh!!! Ride wit my inspirational tunes, the music I adapt too and the artists that influence me, and a few joints I made from the durdy to air so I could make sure ya'll heard me…"
Tracklist:
1. "War Of Roses" Blaqstarr ft. Jack Denning
2. "Moments of Love" Art Of Noise
3. "Billie Jean" Michael Jackson
4. "In The Groove" Blaqstarr ft. Rye Rye
5. "Rebéels Hop" Bob Marley
6. "Just A Thought" Gnarls Barkley
7. "Lithium" Nirvana
8. "Dumb" Nirvana
9. "Fed Up" Madonna
10. "Thieves In The Temple" Prince
11. "Lick" Joi
12. "Pourin' Up" Pimp C
13. "Let Me See It" UGK
14. "ET" Outkast
15. "Aquemeni" Outkast
16. "As Much As You" Colin Munroe ft. Blaqstarr
17. "The Turn" M.I.A. (produced by Blaqstarr)
18. "Bang Hard" Blaqstarr
En Plus aucune redevance à payer...héhé merci qui??
http://www.wemakeitgood.com/shilo-presents-blaqstarr
TSD