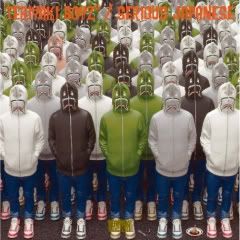 Je vous annonçai précédemment la sortie ce 28 Janvier sur Star Trak, du nouvel album des singes nippons. Ils ont divulgués la semaine dernière sur leur site la trackliste de "Serious Japanese". Sans surprise les Neptunes sont omniprésents côté productions, Adrock réponds présent comme sur le précédent opus, mais que donnera les collaborations... Le remix du très bon Tokyo Drift avec Pusha-T & Fam-lay est l'une de mes attentes. Bien évidement le travail de Mark Ronson sera sûrement cool à décrypter, tout comme la toute première collaboration avec Jermaine Dupri.
Tracklist:
01 - Please Come (Intro) (Produced by Adrock)
02 - Work That feat. Pharrell & Chris Brown (Produced by The Neptunes)
03 - After 5 AM feat. Mademoiselle Yulia (Produced byTowa Tei)
04 - Tokyo Drift (Produced by The Neptunes)
05 - Sweet Girl feat. Dondria (produced by Jermaine Dupri)
06 - Teriya-King feat. Big Sean & (Produced by Kanye West)
07 - Serious Japanese (Produced by Mark Ronson)
08 - Zock On! feat. Pharrell, Busta Rhymes & Lisa (Produced by The Neptunes)
09 - (Can't) "Bake "That" Fape" (produced by Takagikan & Adrock)
10 - It's More (produced by Supa Dave West)
11 - I Still Love H.E.R. feat. (Produced by Kanye West)
12 - Get The Hell (Outro) (Produced by Adrock)
13 - Tokyo Drift feat. Pharrell, Pusha T., & Fam-Lay (produced by The Neptunes)
Cette album ne sera sûrement pas une révolution mais pour vos oreilles, voici le précédent...
www.teriyakiboyz.com
TSD