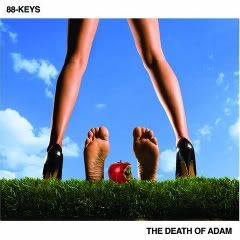 Le premier album solo "The Death of Adam "de 88-Keys est toujours disponible. Cet album a biensûr retenu mon attention l'année dernière grâce au passif de cet artiste. Son travail avec A tribe Called Quest,Mos Def, Talib Kweli, Musiq Soulchild, Kanye ou encore The Pharcyde ont fait de lui une valeur sûre de l'underground New-yorkais. Ayant fait ses preuves en tant que producteur, il y a quelques mois, il suivi le chemin emprunté par bon nombre de ses confrères en passant derrière le micro pour la réalisation d'un premier opus salué par la critique à sa sortie.
Pour ce titre au thème "très particulier", le rappeur/producteur d'origine Camerounaise a fait appel à son ami et producteur Kanye West.
Please press play...
88-Keys:Stay Up!(Viagra) Featuring Kanye West
www.myspace.com/88key
TSD