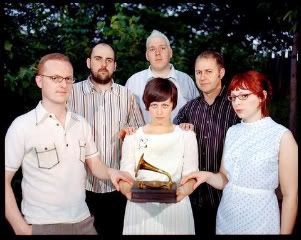 L'un des multiples et super groupe écossais que j'apprécie avait il y a un mois annoncé la naissance imminente de leur 4e album. "My Maudlin Career" a été entièrement enregistré en Suède aux côtés du producteur Jari Haapalainen (
The Bear Quartet
). Tracyanne Campbell la chanteuse du groupe est visiblement très contente du résultat. Le premier single qui a entièrement retenu mon attention, préserve la marque de fabrique du groupe de Glasgow: un romantisme portée par des sonorités féeriques. Leur musique que j'ai découverte via le titre
"Teenagers"
m'a marquée et est vivement conseillée pour les adeptes de sons relaxants.
Pour revenir à leur actualité, ils ont récemment proposé en téléchargement gratuit sur leur site, le titre éponyme de ce disque. Il est toujours disponible en écoute et téléchargement sur leur
site
. Le premier single officiel par contre s'intitule " French Navy". Pas de commentaires chauvins concernant le titre de cette chanson qui est vraiment pas mal.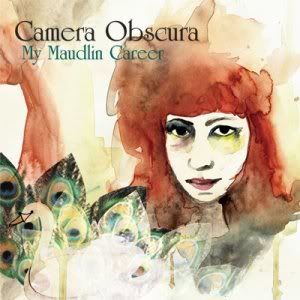 My Maudlin Career Tracklisting:
01. French Navy
02. The Sweetest Thing
03. You Told A Lie
04. Away With Murder
05. Swans
06. James
07. Careless Love
08. My Maudlin Career
09. Forests And Sands
10. Other Towns And Cities
11. Honey In The Sun
Et le premier single "French Navy" que j'apprécie et la vidéo est bien plus que sympathique...
"My Maudlin Career" sera distribué dès le 20 Avril prochain via le label anglais
4AD
.
www.myspace.com/cameraobscuraband
www.camera-obscura.net
PS: Si le téléchargement paraît trop compliqué sur leur site, vous avez un autre accès
ici
TSD