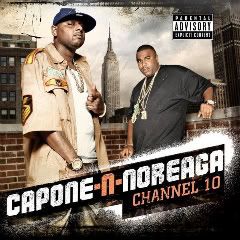 Capone & Noreaga reviennent dans l'actualité avec la sortie prochaine de leur 3e album. "Channel 10" accueillera des productions de DJ premier, Havoc, The Alchemist ou encore de( l'écoeurant) Ron Browz. Ces rappeurs du Queens ont beaucoup d'estime à mes yeux, mais le premier single "Rotate" featuring Busta Rhymes et produit par Ron "autotuneman"Browz m'a effrayé. Jugez par vous même.
Les deux autres titres qui ont filtrés m'ont rapidement rassurés. Ils libèrent ici deux titres qui feront surement parler.
Pur Product of Queensbridge. CNN feat M.O.B.B !!A l'ancienne.
CNN-Wobble Wobble feat Mobb Deep
(Produced By Havoc)
Second missile laché par l'artificier en chef, Primo. Good Job as usual!!
CNN-Grand Royal (Produced by DJ Premier)
www.myspace.com/caponennore
TSD